Safety Eyewear
Uvex Hypershock
Uvex Hypershock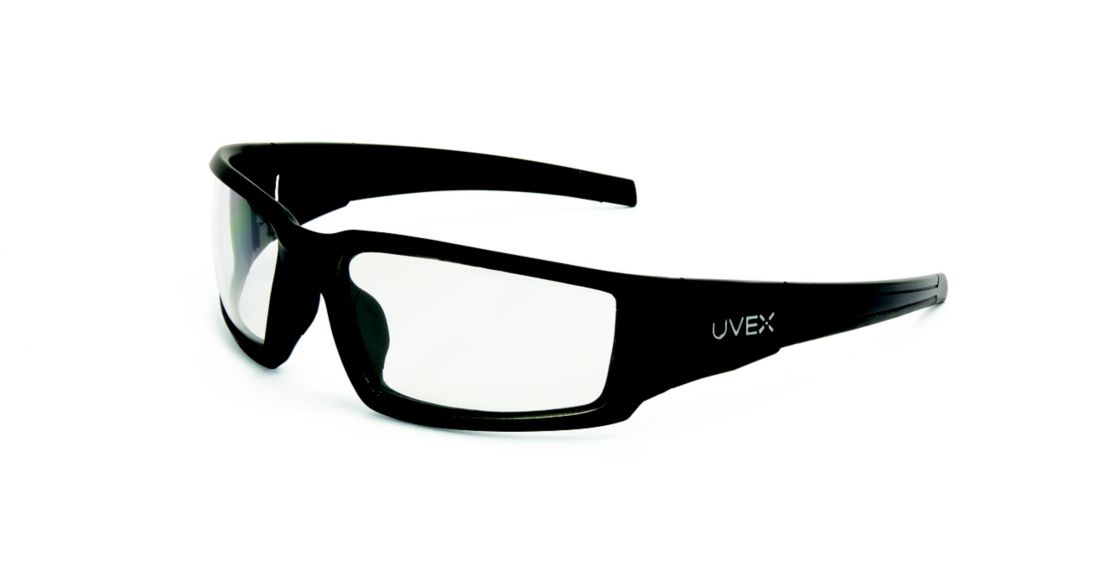 Uvex Hypershock delivers protection with a sporty style. Now available in Hydroshield AF coating, it has a lightweight, wrap-around full frame, streamlined temples, and molded nosepiece. Ideal for indoor/outdoor work environments. 100% dielectric.
Features & Benefits:
PC lens, Photochromic, Hydroshield AF, Uvextreme Plus AF
Soft, molded nosepiece. Temple inserts
Available in various lens tints, including polarized tints
Idea for indoor/outdoor use. 100% dielectric
Full-frame, Sporty
Certifications:Polycarbonate Lens Coatings available in:
HydroShield Anti-Fog coating offers consistent fog-free time of 90X longer than the majority of other anti-fog products and provides 2X greater scratch resistance than our next best anti-fog coating.
Uvextreme Plus Anti-Fog coating for 10X longer anti-fog and 2X scratch resistance
HydroShield Anti-Fog Hardcoat coating
Available in Photochromic coating
Fit:
Lightweight, wrap-around frame provides superior fit, coverage and side protection and peripheral vision
Soft, molded inserts along the temple offer comfortable and secure fit
Integrated hinge mechanisms with dual cam action
Available in a variety of colors
Protection:
Certified to meet ANSI +2015
100% dielectric
SCT U6 grade -level filtering 99.9% of UVB/UVA protection for far and near UV transmittance
Available in wide range of lens tints to address the needs of virtually any work environment
Value Proposition:
Ideal for indoor/outdoor environments including hot, humid conditions
Style:
Product Type : General Purpose Eyewear | Industrial Sunwear
Frame Flexibility : Molded temple inserts
Nose Bridge Style : Molded-In
Frame Color : Matte Black | Smoke Brown | Clear Ice
Lens Coating : HydroShield AF | Dura-Streme HC/AF | Ultra-Dura HC | Uvextreme AF
Lens Color : Variety of Lens Tints
Temple Options : Cushioned
Product Platform Advantages : 100% dielectric; Good for Indoor/outdoor use.
Name
Description
File size
S2941HS
Uvex Hypershock Matte Black Frm, Gray Lens Hydroshield AF Coating
S2951HS
Uvex Hypershock Matte Black Frm, SCT-Blue Lens Hydroshield AF Coating
S2960HS
Uvex Hypershock Smoke Brown Frm, Clear Lens Hydroshield AF Coating
S2951XP
Honeywell Uvex Hypershock™ Matte Black Safety Glasses With SCT-Blue Anti-Fog Lens
S2949
Honeywell Uvex Hypershock™ Matte Black Safety Glasses With Espresso Anti-Scratch/Hard Coat Lens
S2961HS
Uvex Hypershock Smoke Brown Frm, Espressso Lens Hydroshield AF Coating
S2963
Honeywell Uvex Hypershock™ Smoke Brown Safety Glasses With SCT-Reflect 50 Anti-Scratch/Hard Coat Lens
S2961XP
Honeywell Uvex Hypershock™ Smoke Brown Safety Glasses With Espresso Anti-Fog Lens
S2970HS
Uvex Hypershock Clear Frm, Clear Lens Hydroshield AF Coating
S2975
Honeywell Uvex Hypershock™ Clear Ice Safety Glasses With Blue Hard Coat/Mirror Lens
S2940HS
Uvex Hypershock Matte Black Frm, Clear Lens Hydroshield AF Coating
S2940XP
Honeywell Uvex Hypershock™ Matte Black Safety Glasses With Clear Anti-Fog Lens
S2942XP
Uvex Hypershock Blk Frm/Amber Uvextreme Plus Lens
S2943
Honeywell Uvex Hypershock™ Matte Black Safety Glasses With SCT-Reflect 50 Anti-Scratch/Hard Coat Lens
S2965X
Uvex Hypershock Clear Frame Photochromic Lens Uvextreme Anti-Fog Coating
S2941XP
Honeywell Uvex Hypershock™ Matte Black Safety Glasses With Gray Anti-Fog Lens
S2942HS
Uvex Hypershock Matte Black Frm, Amber Lens Hydroshield AF Coating
S2970XP
Honeywell Uvex Hypershock™ Smoke Brown Safety Glasses With Clear Anti-Fog Lens
S2944
Honeywell Uvex Hypershock™ Matte Black Safety Glasses With Red Anti-Scratch/Hard Coat/Mirror Lens
S2945
Honeywell Uvex Hypershock™ Matte Black Safety Glasses With Blue Anti-Scratch/Hard Coat/Mirror Lens
S2960XP
Honeywell Uvex Hypershock™ Matte Black Safety Glasses With Clear Anti-Fog Lens
S2950X
Uvex Hypershock Black Frame Photochromic Lens Uvextreme Anti-Fog Coating
S2964
Honeywell Uvex Hypershock™ Smoke Brown Safety Glasses With Gold Anti-Scratch/Hard Coat/Mirror Lens
S2969
Honeywell Uvex Hypershock™ Smoke Brown Safety Glasses With Espresso Anti-Scratch/Hard Coat Lens
S2974
Honeywell Uvex Hypershock™ Clear Ice Safety Glasses With Red Anti-Scratch/Hard Coat/Mirror Lens
Worker on a ladder with fall protection safety equipment on