Gloves
Pure Fit - Cut-Resistant
Pure Fit - Cut-Resistant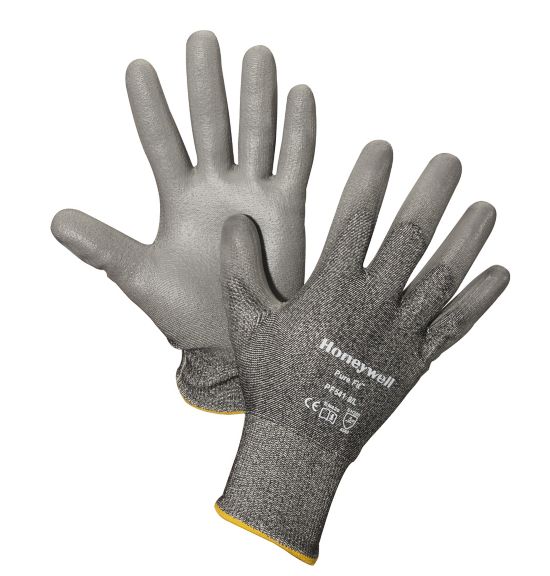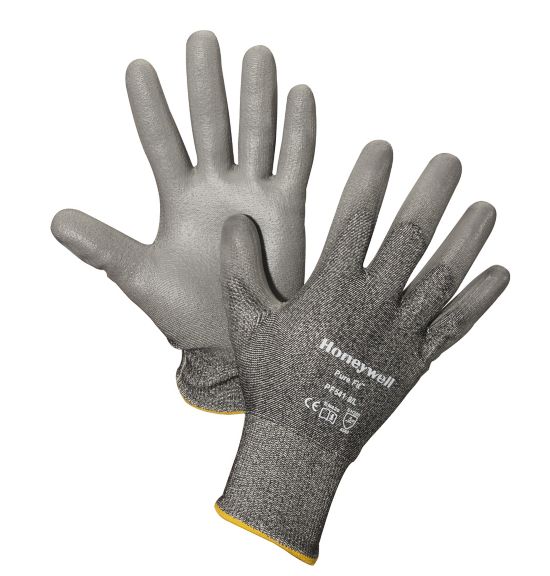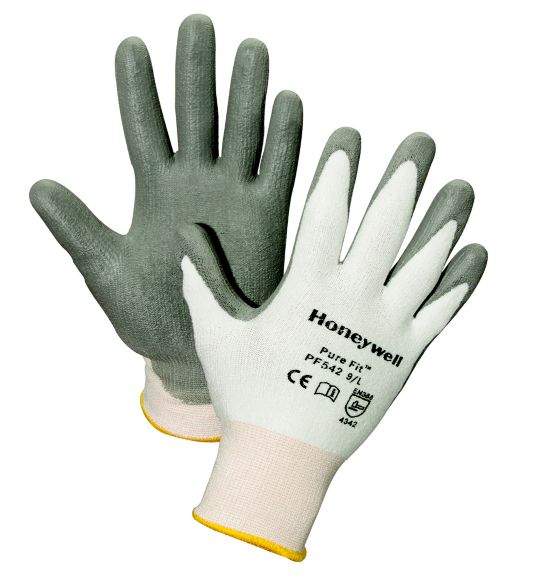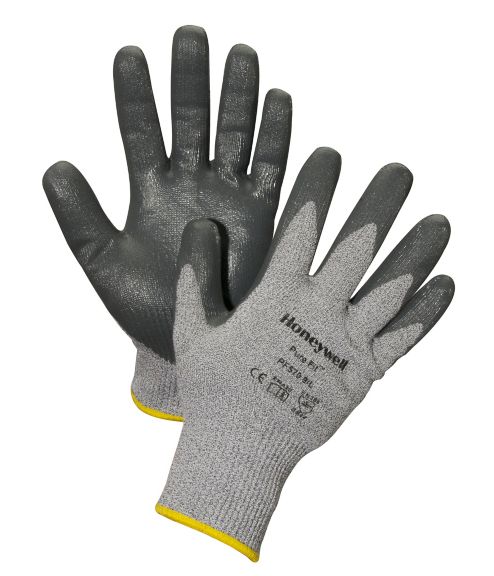 Pure Fit, dipped gloves are available in a variety of cut-resistant liners, for protection and dexterity in applications requiring precision. HPPE and Aramid fiber liners offer lightweight comfort and dexterity while protecting hands from cuts, slash and abrasion.
Features & Benefits:
Pure Fit -Cut-resistant series features lightweight liners of DuPont KEVLAR or High Performance Polyethylene (HPPE) fibers.
A choice of nitrile or polyurethane palm dip coating adds protection and increases durability.
Gloves are ANSI/ASTM rated - Pure Fit styles range from ASTM level 1 to 4.
Pure Fit, cut-resistant styles are perfect in applications where dexterity and protection is vital to worker safety and productivity.
Glove Gauge : 13 milli-inch
Lining Material : HPPE; Aramid Fiber
Standards : OSHA Standard - 29 CFR 1915.157; ANSI/ISEA 105-ASTM D3389-05, ASTM F1790-97
PF541-L
13 HPPE and nylon blend Black heather Polyurethane Palm & Fingertips Gray
PF541-S
13 HPPE and nylon blend Black heather Polyurethane Palm & Fingertips Gray
PF542-L
Honeywell Large Pure Fit™ 13 Gauge Dyneema® And Lycra Cut Resistant Gloves With Polyurethane Coated Palm And Fingertip
PF542-S
Honeywell Small Pure Fit™ 13 Gauge Dyneema® And Lycra Cut Resistant Gloves With Polyurethane Coated Palm And Fingertip
PF570-L
Honeywell Large Pure Fit™ FLX Cut™ 13 Gauge HPPE Cut Resistant Gloves With Nitrile Coated Palm And Fingertip
PF541-XL
13 HPPE and nylon blend Black heather Polyurethane Palm & Fingertips Gray
PF570-XXL
13 Spectra® Fiber and steel blend, with Spandex interior plating Gray Nitrile Palm & Fingertips Gray
PF541-M
13 HPPE and nylon blend Black heather Polyurethane Palm & Fingertips Gray
PF542-M
Honeywell Medium Pure Fit™ 13 Gauge Dyneema® And Lycra Cut Resistant Gloves With Polyurethane Coated Palm And Fingertip
PF542-XL
Honeywell X-Large Pure Fit™ 13 Gauge Dyneema® And Lycra Cut Resistant Gloves With Polyurethane Coated Palm And Fingertip
PF570-XL
Honeywell X-Large Pure Fit™ FLX Cut™ 13 Gauge HPPE Cut Resistant Gloves With Nitrile Coated Palm And Fingertip
PF570-M
Honeywell Medium Pure Fit™ FLX Cut™ 13 Gauge HPPE Cut Resistant Gloves With Nitrile Coated Palm And Fingertip
PF570-S
Honeywell Small Pure Fit™ FLX Cut™ 13 Gauge HPPE Cut Resistant Gloves With Nitrile Coated Palm And Fingertip
Worker on a ladder with fall protection safety equipment on